Updated 30 January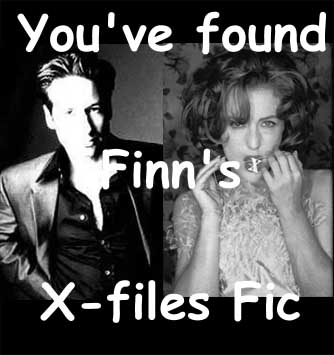 Send me an e-mail
TITLE: One Time
POSTED: 12 December 1999
CATEGORY: PWP, MSR, V
RATING: NC-17
SPOILERS: None
SUMMARY: How significant are moments in time?

TITLE: Playing Poker (63k)
POSTED: 25 September 1999
CATEGORY: MSR
RATING: NC-17
SPOILERS: Three of a Kind, The Unnatural, Milagro, etc.
SUMMARY: Fluff and smut, cunningly disguised as a post-ep fic for Three of a Kind.
TITLE: Perpetual Bliss (39k)
POSTED: 5 June 1999
CATEGORY: MSR, minor angst
RATING: NC-17
SPOILERS: Monday, small references to earlier episodes
SUMMARY: Post-ep for Monday, kinda ... but it degenerates into, um ... smut :)
TITLE: Tlaloc's Time (85k)
POSTED: 16 May 1999
CATEGORY: V, UST, MSR
RATING: NC-17
SPOILERS: The Rain King, little bits of other episodes that come before it
SUMMARY: The events during Rain King lead M/S to revelations about their relationship and finally ... to action
DISCLAIMER: Mulder and Scully and the X-files belong to 21st Century FOX, 1013 Productions and Chris Carter. All persons who read the stories placed on this site are agreeing to abide by the ratings placed on the stories. Individuals are expected to not access the stories rated R and NC-17 unless they are over the age of 18.